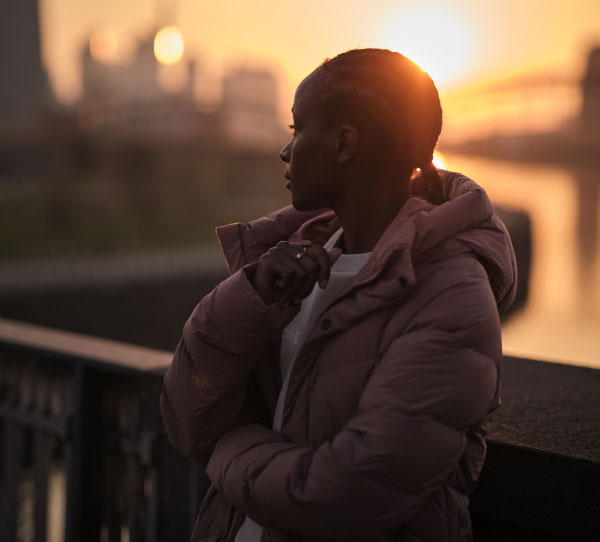 Casual jackets & top-quality business bags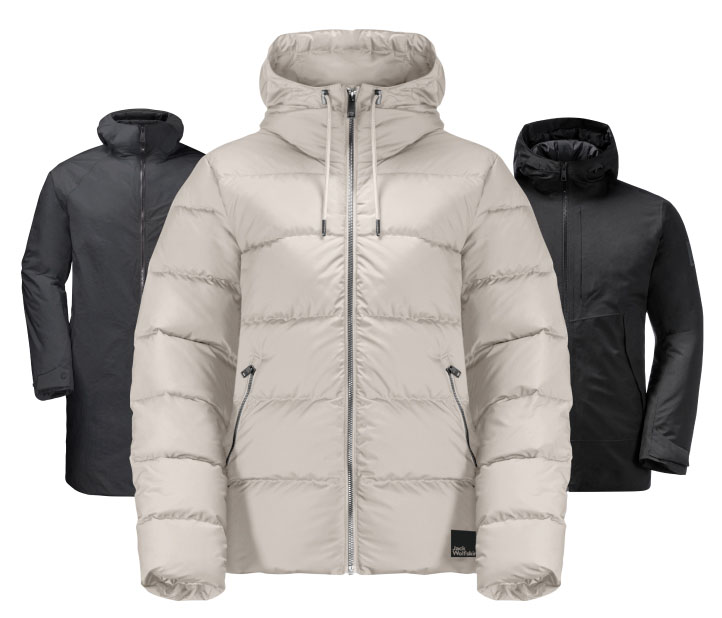 Urban Entdeckung
Stylish and exceptionally warm: The jackets in our Urban Entdeckung series will let you enjoy the outdoors, even on really cold days. The styles combine a modern, understated look combined with first-rate insulating properties and oodles of comfort. Perfect for your winter urban adventure!
City Life
Stylish and well organised for everyday use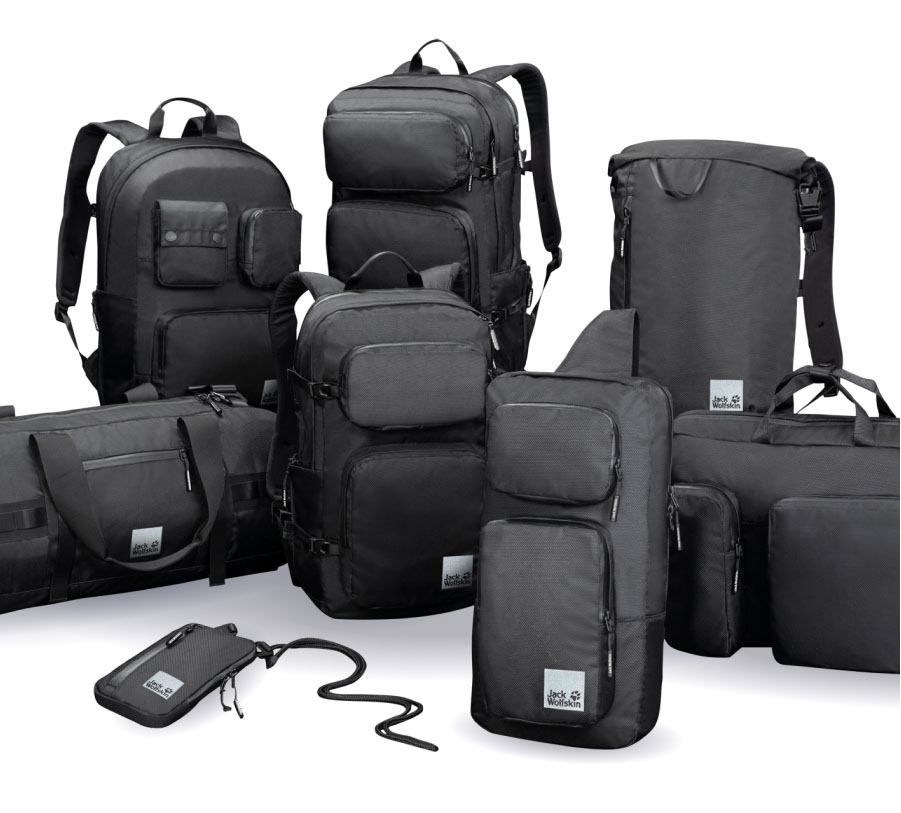 Minimalist design and sleek outline
With lots of top-quality design highlights, the different black shades give the City Life collection a really special look. All of the items have plenty of room to store things and practical features for your paraphernalia. Furthermore, the main materials and lining are made from recycled materials.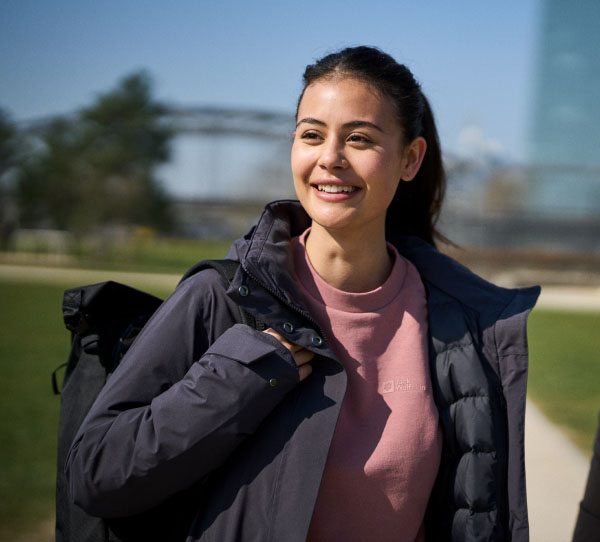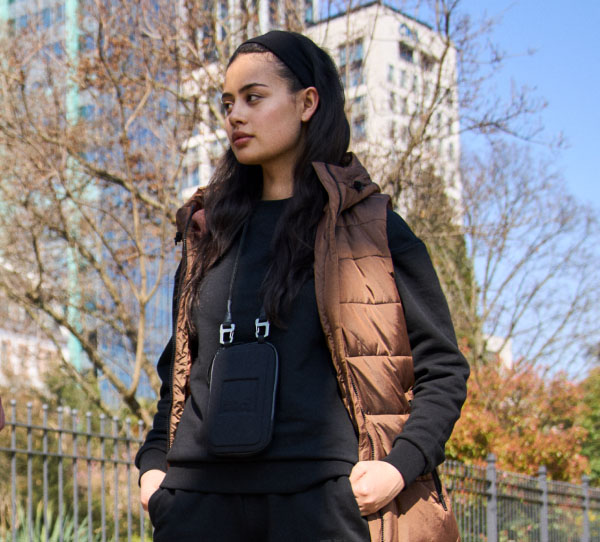 Durable fabric

Top-quality trimmings

Main material and lining are 100% recycled

Highly reflective badge with logo

Padded compartments for e -devices and plenty of compartments for organisation
Click on the items and discover the highlights of this collection
Tokyo

Pack

Details

Tokyo Pack

Daypack with a laptop compartment

139,95 €

Ideal for: office or hotel
Capacity: 24 litres
Exceptionally comfortable to wear: 3D-contoured and padded back system
List of compartments:

Padded laptop compartment (14") and tablet compartment (10")
2 front pockets
2 side pockets which can be enlarged
Small pockets and slots for small items

Other features:

Versatile fastening hook for keys, headphones and cable charger
Compression straps
Thickly padded base
New York

2in1 Flipbag

Details

New York 2in1 Flipbag

Daypack, shoulder bag and document holder

129,95 €

Ideal for: business activities and business trips
Capacity: 20 litres
Exceptionally comfortable to wear:

3D-contoured and padded back system
Bag can also be worn in landscape
Detachable shoulder straps

List of compartments:

Padded laptop compartment (14")
2 front pockets
Separate compartment for dirty laundry
Small pockets and slots for small items

Other features: Versatile fastening hook for keys, headphones and cable charger
London

Backpack

Details

London Backpack

Daypack with a laptop compartment

119,95 €

Ideal for: job and leisure
Capacity: 22 litres
Exceptionally comfortable to wear: 3D-contoured and padded back system
List of compartments:

Padded laptop compartment (14")
3 front pockets
2 side pockets which can be enlarged
Small pockets and slots for small items

Other features:

Versatile fastening hook for keys, headphones and cable charger
Thickly padded base
Helsinki

Rolltop

Details

Helsinki Rolltop

Rolltop pack with a laptop compartment

109,95 €

Ideal for: active commuting, even by bike
Capacity: 18 litres
Exceptionally comfortable to wear:

3D-contoured and padded back system
Detachable strap made of strong webbing

List of compartments:

Padded laptop compartment (14")
Front zip pocket
Access to laptop compartment via additional zip
Small pockets and slots for small items

Other features:

Versatile fastening hook for keys, headphones and cable charger
Attachment for an LED flashing light
Auckland

Pack

Details

Auckland Pack

Daypack with a laptop compartment

99,95 €

Ideal for: commuting and travel
Capacity: 15 litres
Exceptionally comfortable to wear: 3D-contoured and padded back system
List of compartments:

Padded laptop compartment (14") and tablet compartment (10")
2 front pockets
2 side pockets which can be enlarged
Small pockets and slots for small items

Other features:

Versatile fastening hook for keys, headphones and cable charger
Thickly padded base
Compression straps
Sydney

Duffle

Details

Sydney Duffle

Sports and travel bag

99,95 €

Ideal for: more extensive business trips and the gym
Capacity: 30 litres
Exceptionally comfortable to wear: Detachable shoulder strap
List of compartments:

Main compartment
Inner pocket with zip
Front zip pocket

Other features:

Fastening loop
Compression straps
Lyon

Cross Over

Details

Lyon Cross Over

Sling bag with tablet compartment

79,95 €

Ideal for: everyday and leisure activities
Capacity: 8 litres
Exceptionally comfortable to wear:

3D-contoured and padded back system
Extra-wide shoulder strap

List of compartments:

Padded tablet compartment (10")
2 front pockets
Small pockets and slots for small items

Other features: Versatile fastening hook for keys, headphones and cable charger
Frankfurt

Phone Pouch

Details

Frankfurt Phone Pouch

Smartphone bag

39,95 €

Ideal for: your mobile and smaller items
Capacity: 0.5 litres
Exceptionally comfortable to wear:

3D-contoured and padded back panel
Detachable and adjustable lanyard

List of compartments:

Padded compartment for smartphone (7")
Front zip pocket